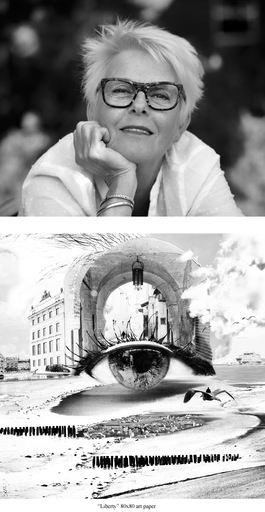 Ik ben Astrid Ufkes een ondernemende kunstenaar die fotografische beelden gebruikt.
Mijn hele leven ben ik al met kunst bezig; van wegwerpartikelen nieuwe objecten maken, fantasiefiguren boetseren, zwart/wit droomlandschappen maken van inkt, kleding ontwerpen, intuïtief schilderen, interieurs ontwerpen en sinds 2013 werken met fotografische beelden.
Kijk op: Me Myself and My World en op You Me and Our World en onder portfolio voor een klein overzicht. In deze foto's kan ik mijn ideeen, gevoelens, gedachten het allerbeste kwijt en hier wil ik de wereld mee veroveren. Mijn droom is dat mijn werk in New York komt te hangen.
Ik ben deelnemer van 'OverdeKunst' sinds 2013 en lid van Stichting Ateliers Apeldoorn.
OP dit moment heb ik Nationaal en Internationaal al een aantal exposities gehad en zijn er in kranten en op websites al verschillende artikelen en foto's van mij verschenen. Kijk op: publicaties
Astrid Ufkes - Jhr. Mr. G.W. Molleruslaan 7 - 7316 AN Apeldoorn - 06 14740889 of via info@uffotodesign.nl
Engels:
Astrid Ufkes, born 1958 in Apeldoorn, The Netherlands, has considered Art as an important role in her life. From designing items with single-use material, molding fantasy figures to drawing black-and-white dreamscapes. Painting and designing are her forte during her years at Art.
Her interest in design was also formed through her years at school for interior design, after which she worked as an interior-designer for several years. She picked up photography in 2009 and has now completed her degree in Photography. In 2013 she found her passion in working with photographical images that result in these fascinating objects: …. Look at: Me Myself and My World and You Me and Our World.
Her dream is hanging her artwork in New York.
Astrid has been part of the organization 'OverdeKunst' since 2013, and has been a member of the artist collective 'Stichting Ateliers Apeldoorn' in The Netherlands.
Some Exhibitions and publications look at: Publicaties
Astrid Ufkes - Jhr. Mr. G.W. Molleruslaan 7 - 7316 AN Apeldoorn - The Netherlands - 00316 14740889 - email: info@uffotodesign.nl
Ingeschreven KvK Oost Nederland nr. 58127356